It is with great pleasure to announce that Ms. Willeen Hastings, Chief Executive Officer, has appointed Ms. Marilyn Burress, as Chief Operations Officer for Memphis Health Center, Inc.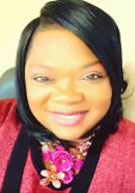 Ms. Burress is an executive professional who has established a 15+ year solid track record of leadership and innovation as a pioneer of new ideas and a purveyor of causes to generate revenue, lead operations, increase provider and vendor involvement, build corporate alliances, and increase community support in the ambulatory clinic setting. Past professional experience includes Director of Grants Management and Compliance with the Shelby County Schools and with Memphis Health Center, Inc. In her tenure with Memphis Health Center, Inc., Ms. Burress has held an array of executive level positions with the agency such as Interim Chief Executive Officer, Chief Operations Officer, Administrative Director, Clinic Administrator and Director of Social Services. In these executive level positions, she was responsible for the oversight of grants and contract management, clinical and facility operations, fiscal compliance, risk management, public relations, health promotion and community outreach, fund raising, special events, quality assurance, project management, patient and employee safety programs, quality improvement, and corporate and regulatory compliance.
Ms. Burress holds triple Master degrees in Business Administration, Operations Management and Arts in Liberal Studies. She also holds a Bachelor of Arts in Social Work. In her new role, Ms. Burress will collaborate with the Chief Executive Officer, Chief Financial Officer and Chief Medical Officer to plan, organize, and direct/supervise all aspects of operations across the Memphis Health Center network, which includes all five satellite locations. Other responsibilities include effecting change that leads to improvements in operational development strategies; execution of health center programs; the strategic planning, implementation, oversight and completion associated with each operational project; handling of the day to day operations of the Center and serving on various committees, both internal and external. Ms. Burress will participate in the functional decision-making processes necessary to the successful attainment of the organization's mission. We look forward to all the contributions Ms. Burress will make to the Center and its patients.